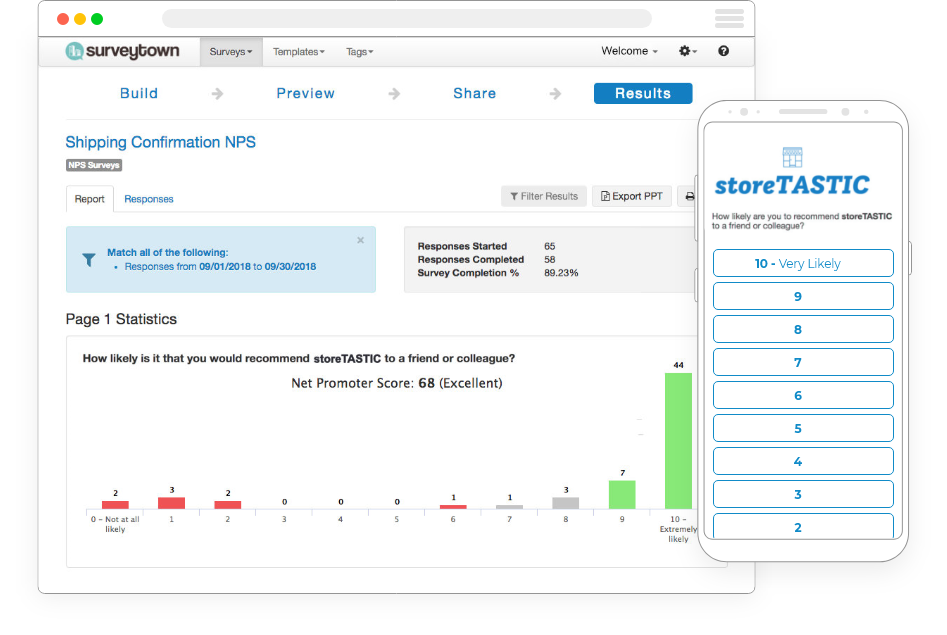 CREATE

Create NPS, CES, CSAT, Ratings or completely custom surveys.




CUSTOMIZE

Add different questions types to your survey.  Define different success pages. Customize the look of your survey.




ALERT

Alert people in your organization when you receive responses.




SHARE

Upload your contacts and send surveys to contacts via email or embed questions in post-purchase or ticket closure emails. Share survey links on your website or social media.




INTEGRATE

Automatically subscribe contacts to surveys by adding their email address to SurveyTown via our API.  Receive data back via our API and Webhooks.




REPORTS

See you ratings in real-time reports.  Filter responses based on custom field data.  See how NPS, CES, and CSAT scores change over time.
The easiest way to create online surveys!
Create an account and get setup in seconds.
Three Steps to Survey Success!
Step One
Create A Feedback Survey
Use NPS ( Net Promoter Score ) and over 19 different question types to create the perfect survey and personalize them to increase your response rates.
Step Two
Give Your Survey to Your Customers "Where They Are"
Send your survey to your post-purchase email list or link it from your checkout pages.  Enrich your responses by passing in data that we can add to their responses.
Step Three
Judge Your Performance
View charts on how your respondents answered your questions.  Share reports with managers so they can see how they are performing.  Export all your responses to spreadsheets for further analysis, sharing or safekeeping.  

ScreenPrinting.com Partners with SurveyTown to Measure its Performance and Inform its Team
CASE STUDY
Use Surveys To Improve Your Business
See a complete list of our features.
SHOW ME