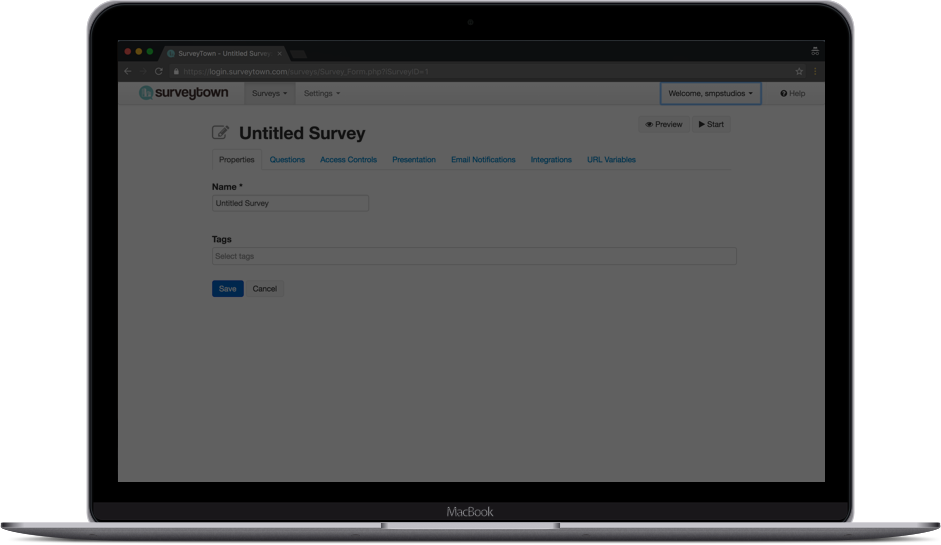 close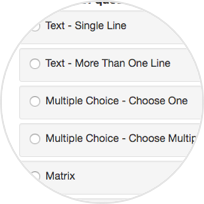 Create Targeted Questions
Craft the perfect survey with 19 different question types from a simple "text box" to the highly insightful "matrix" question. Create new questions with the click of a button and reorder them with drag-and-drop simplicity.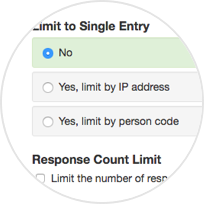 Promote & Collect Responses
Control how, and when, your surveys are viewed with functionality that allows you to open and close your survey at times of your choosing, limit them to "single entry," control the look and feel of your survey, as well as add your branding to the survey pages.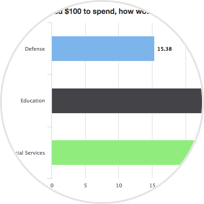 Review & Analyze
SurveyTown collects all responses to your surveys and shows you graphs and reports. Quickly see the number of responses and view your aggregated statistics on responses in charts or export them to a spreadsheet for further analysis, sharing or safekeeping.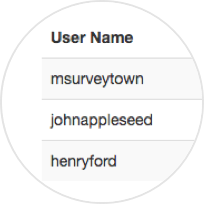 Flexibility for Everyone
With multi-users, larger organizations can easily manage surveys and collaborate together.  When you create multiple users, you can assign them permission to manage certain surveys and not others.
SurveyTown has the features to get you results.
– Survey Capabilities –

19 Question Types
Choose from basic question types like "text" and "multiple choice" as well as more advanced ones like "matrix", "net promoter score", and "ranker".

Unlimited questions
Add as many questions as you need to your survey and reorder them with ease.

Unlimited surveys
Create as many surveys as you wish in your account.

Unlimited Responses
There is no limit to the number of responses you can collect.

Single- or multi-page
Create a single-page or multi-page survey, depending on your needs.

Robust reporting
See your survey results in beautiful graphs and charts.

Data export
Export all of your individual responses for analysis and safe-keeping.

Logic and actions
Skip pages, send emails, and route users to different URLs based on their answers to survey questions.
See feature details »

Email notifications
Send thank you or confirmation emails to survey respondents and notification emails to yourself.

Entry limits
Need to limit the number of responses? We've got you covered.

Automatic open/close
Set open and close dates if all your responses need to be collected over a certain time period.

Tags
Organize your surveys by tagging them with categories or key words.

Report Views
See how different groups of people answered your survey differently.
See feature details »
– Brand Recognition –

White-label capabilities
Brand individual surveys to your company and remove any mention of SurveyTown.

Custom survey URL
Use our white-label URL to host your surveys.

Add company logo
Brand surveys to your company by adding your logo to them.

Rebrand entire app
For our Reseller partners, add you logo and colors to white-label the entire application.

Custom login URL
Reseller partners can create a completely new URL where your customers can access the application.

Custom powered-by link
Remove our "Powered-by SurveyTown" language and use your own.
– Integrations –

API access
Use our API to integrate your survey data into other applications.

Webhooks
Receive survey data in real-time.

Developer control
Create multiple API keys for different uses.
– Access –

Multiple users
Create multiple users and collaborate with others in your office.
See feature details »

Control survey permissions
Control which surveys specific users can edit or view.

Control functional permissions
Give users the ability to edit surveys or just view the reporting.
– Super Admin –

Enterprise-wide platform
Enterprise and Reseller partners can view all of the accounts under their control, login as their customers, and even schedule notifications to display in the application.

Full-featured sub accounts
Enterprise or Reseller partners can create new survey accounts for their customers.

Consolidated billing
Enterprise or Reseller partners can receive one bill for all the accounts they manage.
What can SurveyTown do for you?
If you have questions about our plans or need some guidance on the type of plan that is right for your organization, please contact us. Were happy to help!