CASE STUDY: Ryonet Partners with SurveyTown to Measure its Performance and Inform its Team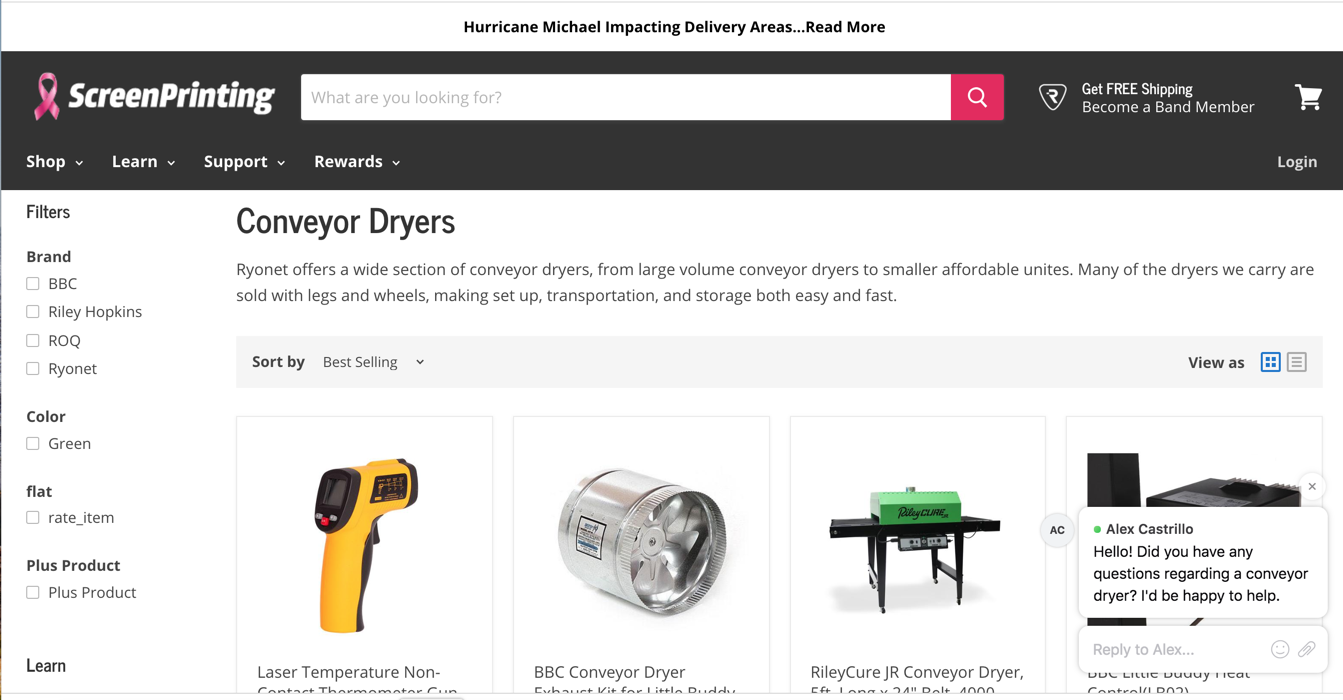 Ryonet is an eCommerce company that sells equipment and supplies to t-shirt printers through the domain "Screenprinting.com." The company, which has over 100 employees and earns $50M in revenue, wanted to measure how well it meeting customers expectations and find out how it could improve its processes for ordering, delivering, and providing support.
Ryonet attacked this project by targeting three different processes using three different survey initiatives.
| Goal | Strategy |
| --- | --- |
| Measure customer satisfaction with the ordering and checkout process | Send an NPS survey after the product was shipped |
| Measure customer satisfaction with the delivery process | Send an NPS survey 10 days after the order was shipped |
| Measure the effectiveness of the customer support department | Survey people after support tickets are closed |
Below is a description of how Ryonet implemented each of these strategies.
Receiving Feedback on the Ordering Process
To see how it's measuring up to customer demands and expectations, Ryonet asks their customers if they will recommend Screenprinting.com to a friend or a colleague in an email sent immediately after product shipment.
This email is sent out using NetSuite and includes an image of the NPS question that is linked to a landing page hosted by SurveyTown but branded by Ryonet.
For customers who answer the question with a 7 or less, Ryonet has provided additional questions to dig deeper into what could have been better. At the end of the survey, these customers are asked to provide their emails which are then added to a list for follow-up by the customer service team.
No matter their rating, once customers have finished providing feedback, they're forwarded to a custom landing page on ScreenPrinting.com. Through SurveyTown's integration, Ryonet has the ability to choose any page to send survey responders to. In this case, the company went with a simple thank you page, but another option could be sending them to a page with a discount code to encourage them to continue providing feedback.
Below you can take a look at the emails and landing pages used to gather feedback on the ordering process.
After the order has been shipped
Email triggered by NetSuite
Close-up of NPS score in NetSuite generated email
Survey landing page
Email triggered by NetSuite
Ryonet set up triggers to notify them about new NPS scores
Ryonet's customer thank you page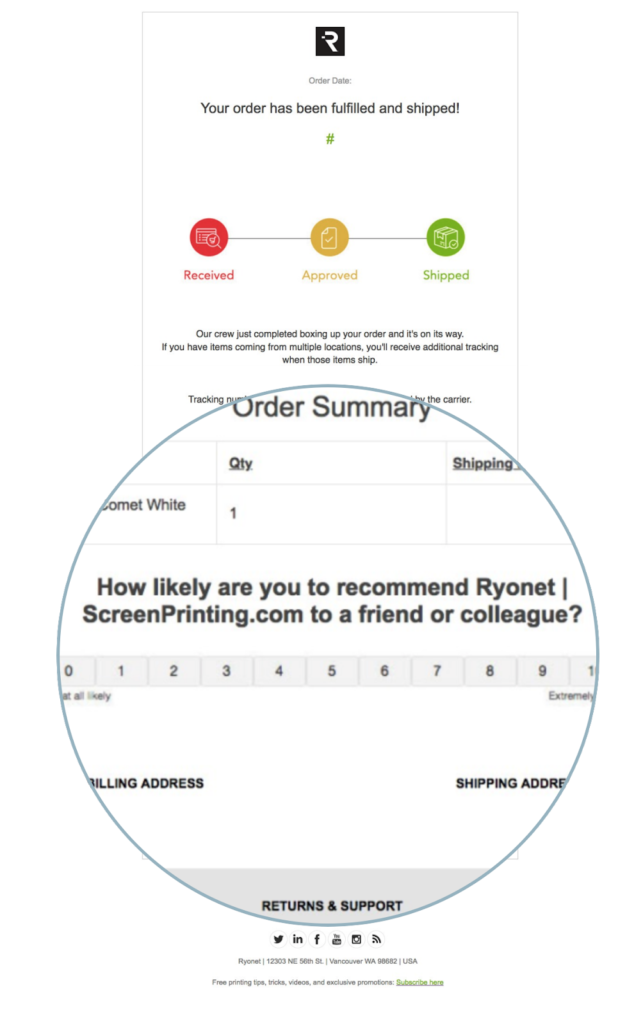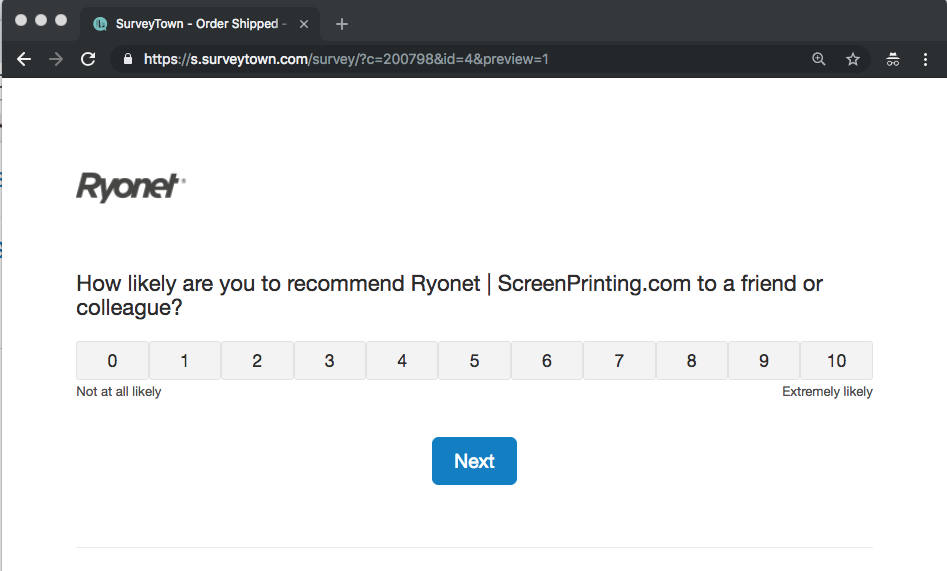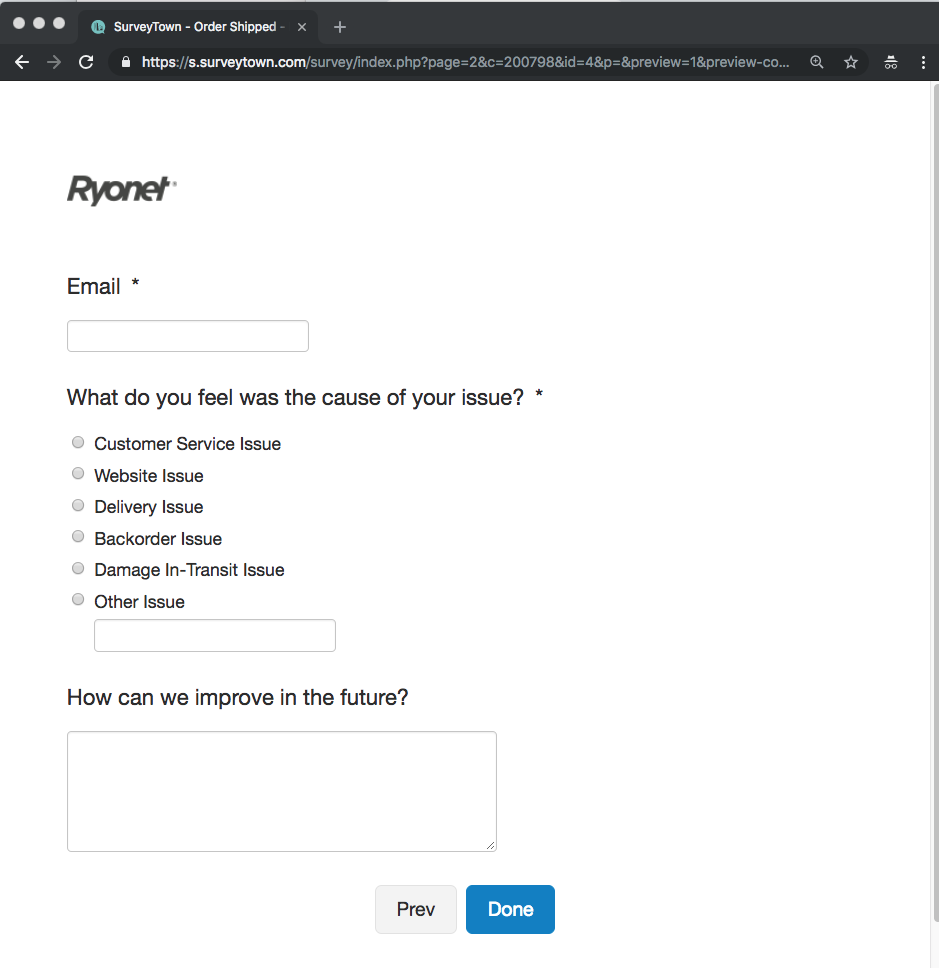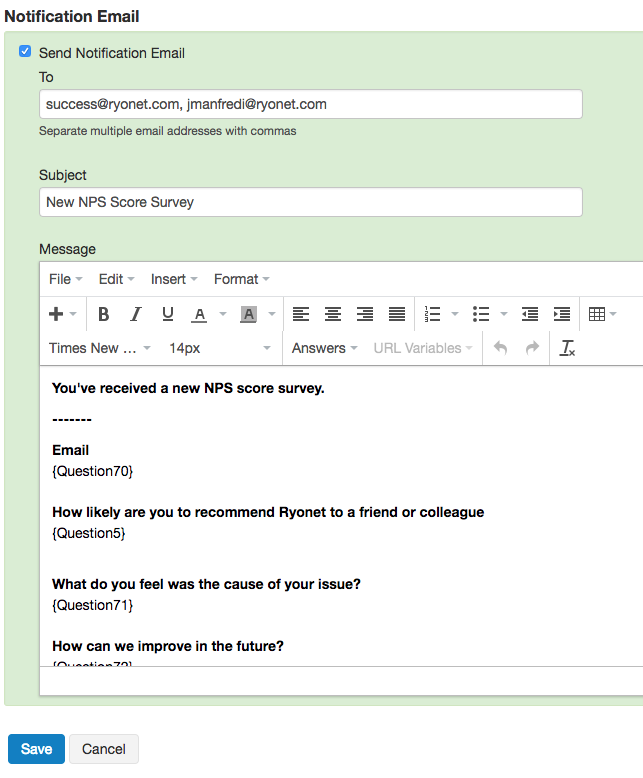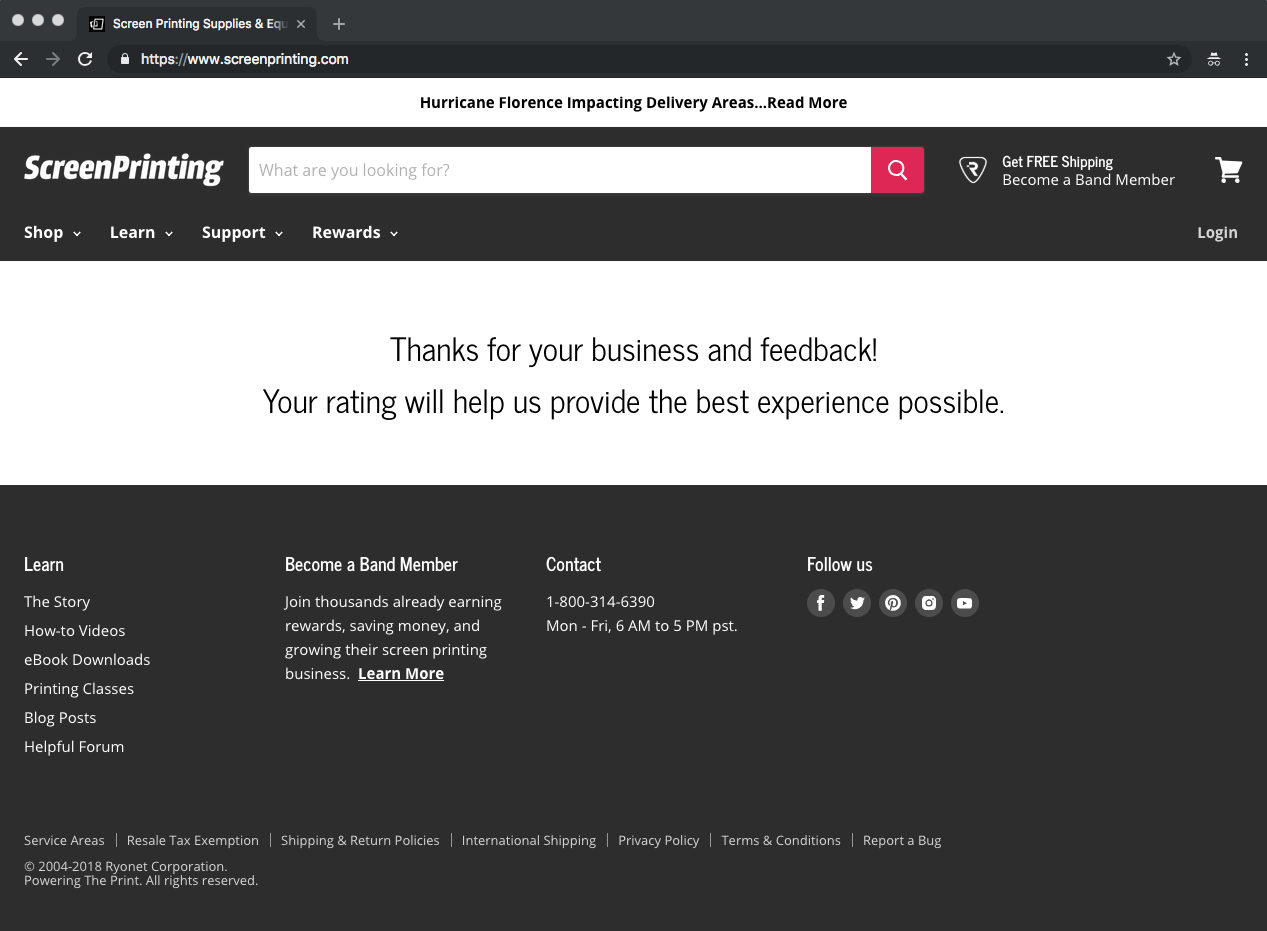 Receiving Feedback on the Delivery Process
Ryonet uses a similar setup to measure customer sentiment once again after the product has been delivered to the customer. One key difference is that after delivery, Ryonet sends an email automatically triggered via Ryonet's ESP, Bronto. In this email, some of the friction is removed as customers are able to rate their experience directly within the email rather than being sent to a survey landing page. If the customer rates the experience with less than an 8, then they are sent to a landing page with an additional survey for follow-up questions.
Just like in the previous NPS survey, the answers are emailed to the customer success team and users are forwarded onto a landing page on ScreenPrinting.com.
Below you can see the survey embedded in the product delivery email.
10 days after the product was shipped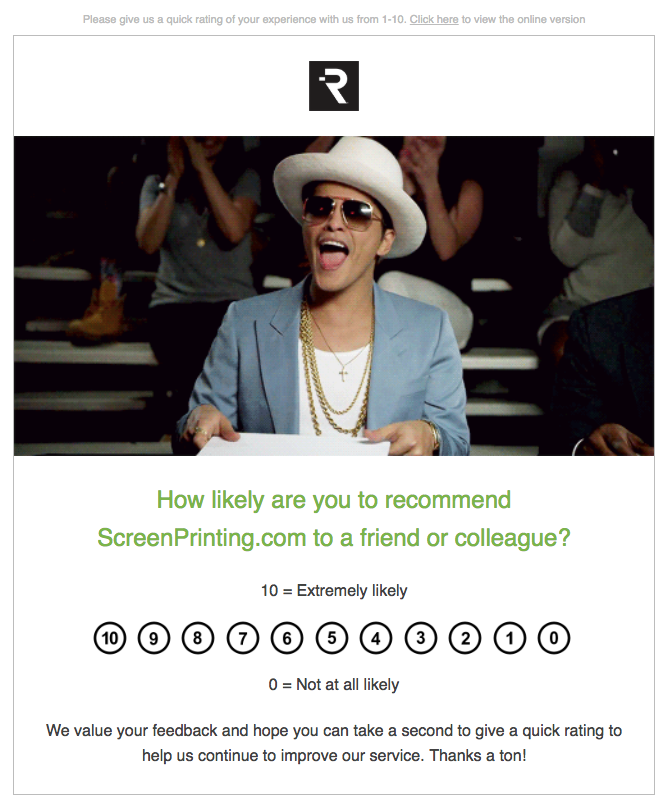 How Ryonet Uses NPS Results to Improve the Business
Using SurveyTown filters, Ryonet monitors NPS scores for order and delivery processes each week. The management team at Ryonet then maps the score to any business changes that could be impacting the customer's experience. For example, Ryonet has been able to see how changes to back-orders or warehouse availability have affected customer sentiment. In the future, they can continue to measure customer sentiment and its correlation with major product enhancements, feature additions, or UX design changes to make sure it's making changes that actually help its customers.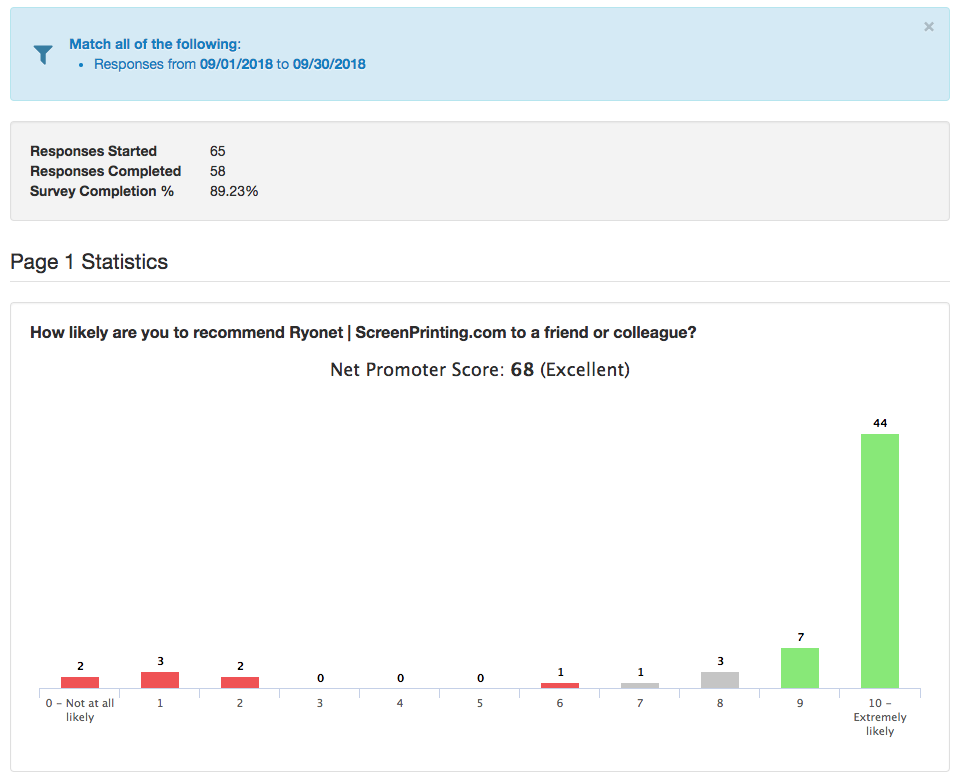 Measuring the Effectiveness of Customer Support
In addition to measuring customer satisfaction with ordering and shipping, Ryonet also uses SurveyTown to assess the performance of their customer support team and make sure that customers are receiving the best help when they need it most.
When a customer contacts Ryonet's customer support team, a case is opened. Once a case is resolved, an automatic email is triggered containing the case number, the customer support rep's name, and a link to a survey set up to measure the effectiveness of the customer rep.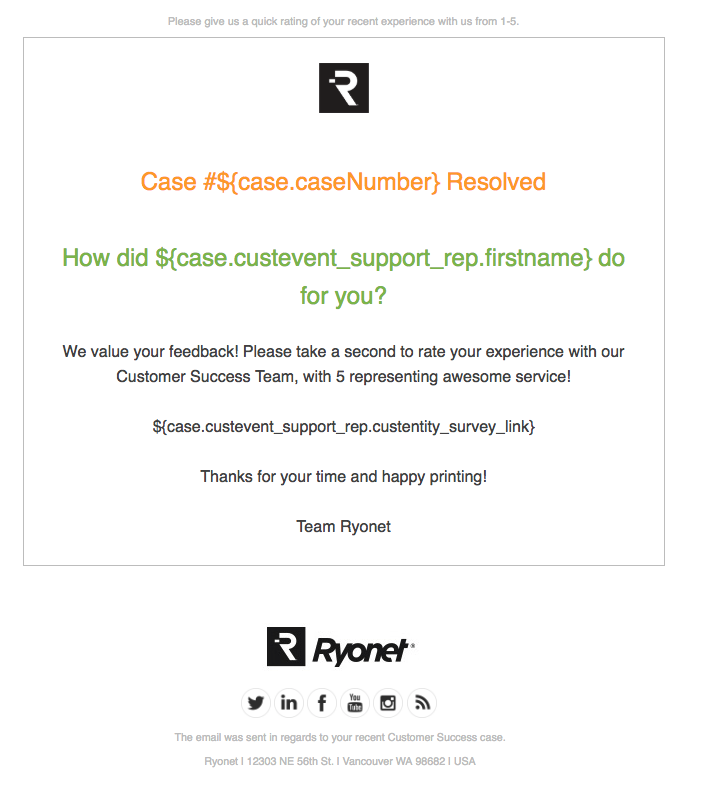 The survey asks customers for feedback on their satisfaction with the support they received and similar to other surveys sent by Ryonet, a notification is sent to the customer service department for any ratings less than 4 so that the team can follow up.
Regardless of the feedback rating, all customers are then forwarded to a custom landing page determined by Ryonet.
This feedback allows Ryonet to measure individual representatives' performance to provide feedback to employees and make decisions concerning employee development initiatives. The feedback also gives Ryonet the ability to dig deeper into problems with their customer service standards and make changes to general processes if necessary.
Why Ryonet Chose SurveyTown
Integration was as easy as cut-and-paste
Other options seemed like they would take a long time to integrate, but integrating SurveyTown widgets into emails was as easy as cutting and pasting HTML into email templates. The process was short and sweet and didn't require hours of oh-so-valuable developer time.
Affordability
SurveyTown provides a wide set of valuable features and is surprisingly affordable. The cost was about ⅓ what the similar service providers would charge,
Customizability
Through the use of SurveyTown, Ryonet is able to customize the questions it asks and the landing pages it sends customers to. SurveyTown allows Ryonet to understand customer sentiment without sacrificing its brand guidelines.
Summary
SurveyTown provides a flexible and robust survey platform that allows Ryonet to measure customer happiness at several important customer touch points. Each survey allows Ryonet to better understand its performance, and alert its team when customer support is needed. Ryonet is using NPS to improve its business processes by mapping scores to different segments of the customer journey including the support process. The customer support team is better able to track its success both individually and as a team by using NPS metrics as KPIs. Through NPS scores, Ryonet will is better able to understand how it's meeting customer expectations. The additional follow up surveys can then guide product and UX roadmaps to improve customer experience.