We released some new features this week. First, we added Admin API calls to our API for our white-label and enterprise customers. These allow our white-label partners to create and updated accounts via our API! We also added the ability to customize the Logic and Action emails, add a new Brand field in settings, and launched some new pricing. Read on for details. 🙂
Admin API
If you are a white-label partner, you may need to create accounts on the fly. For example, let's say you are a SaaS provider to small businesses, and you wanted to a provision a new survey account for each one of your merchant customers when they signed up for you SaaS service. With our Survey Admin API, using your API key, you can create new accounts immediately, setting up all the accounts preferences and give your customer access right away.
But there's more! In addition to creating, updating and deleting accounts, you can also create API Keys, find all your accounts and set messages that appear in the platform when the users login.
Here's the list of new functions:
To gain access to the Admin API, you will need to have signed up for NPS white-label account and then you use an API key that is associated with it.
Logic And Actions Email Upgrades
If a customer service issue is uncovered when a customer takes a survey, you may want to notify customer service personnel right away. SurveyTown allows you to send alert emails to business managers right away in our "Logic and Action" section of the survey. This feature has been around for a while. What's new is that we now allow you to customize this email to give all the details of the responses on the page in the email itself. So your manager can find the information they are looking for without having to login and see it.
To find this functionality, go the "Logic & Actions" tab underneath the "Questions" tab for survey, set how you want the email to be triggered and then check the "Email Alerts". Here you can see we have pre-filled the subject and body with the details of the response. You can then customize it from there.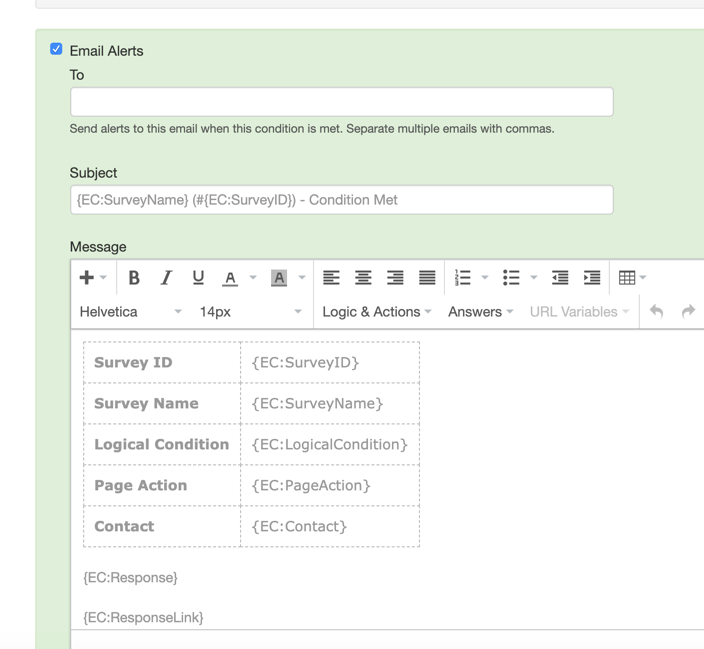 Branding
We added a new "Branding" field in the "Settings". Use this for the name of your product, company or service. It will show up in the following areas:
It will used in new NPS, CSAT, CES or Ratings questions by default but can also be edited and customized if you want.
It will be used as the "From" name in any emails that are sent out by the system, such as Confirmation or Notification emails.
Pricing updates
We made a big change to how we price our product. Now, we price based on the number of responses that are received rather than the number of features that are used. We think this more closely aligns with the value we are providing. Smaller customers can pay a little less while larger customer pay a little more.
Our API access is limited to our pay customers, but for developers we have a 14-day free trial to use the API to make sure it works for you.
Thank you and happy surveying!
Surveys help you make the best decisions for your business. Are you ready to get started with your free Survey Town trial? Start with your free survey account today, and you can upgrade at any time.