Satisfied and engaged workers are of the utmost importance for your company's growth. The SurveyTown will provide the best tools to measure employee happiness and strategies to improve working conditions in all departments. Learn how to provide your team with financial, emotional, and medical support to create a healthy workplace with happy employees. You'll discover the significance of questionnaires, average eNPS scores, regular meetings, education, and multiple other factors. Our simple job satisfaction measurement tools and beneficial practices will help you calculate, track, address, and positively influence your workers' contentment, motivation, or well-being.
#1 Carry Out Anonymous Surveys
Conducting a survey to measure employee satisfaction is a fantastic way to get direct insights and make everyone feel heard. Be sure to make it anonymous, customize it to fit all departments, and send it via email. 
Creating a survey is easy and includes several direct open-ended or multiple-choice questions. Save time by using SurveyTown's employee satisfaction survey template. This questionnaire can also help you discover whether your company needs better consumer experience data. 
#2 Calculate ESI and eNPS Scores
Incorporate the following questions into a survey, and add a scale from 1 to 10 for them to circle a suitable number.
How satisfied are you with the workplace?
How well does your workplace match your expectations?
How close is your workplace to your dream job?
Use the following pattern to get the Employee Satisfaction Index: [question mean value/3] x 100=ESI.
Measure the Employee Net Promoter Score (eNPS) by asking just one question: How likely are you to recommend our company as a workplace on a scale of 0 to 10? Those who circle 9 or 10 are promoters, while people who answer 0 to 6 are detractors. Calculate the eNPS by deducting the percentage of detractors from the percentage of promoters. Any score above 0 is acceptable.
#3 Take Advantage of Specialized Software
If you're searching for efficient and easy-to-use tools to measure job satisfaction, employee experience platforms are your go-to choice. These offer a safe place for feedback exchange, allowing leaders to drive positive changes and improve employee happiness. Here are our top five picks: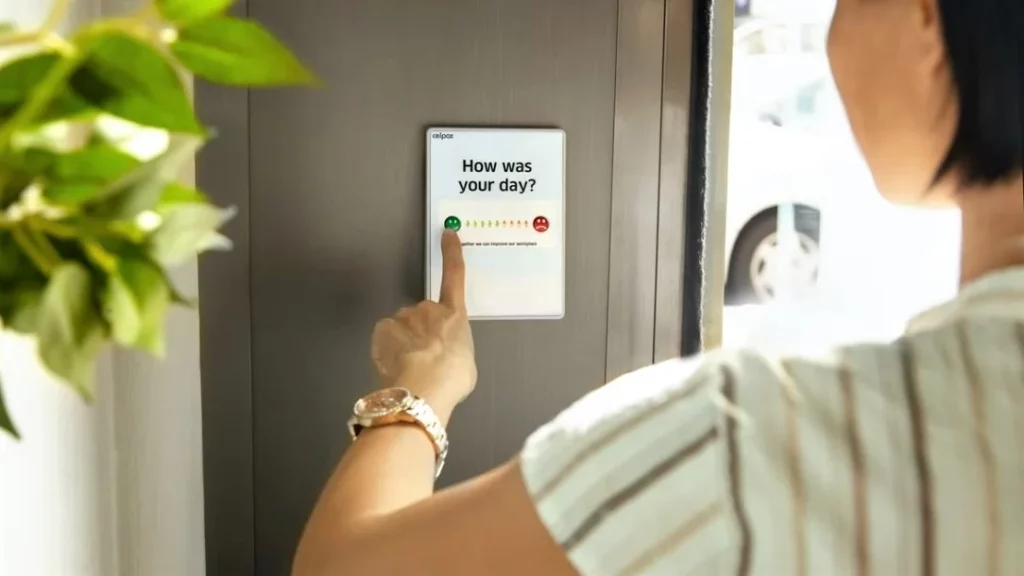 #4 Set Up an Employee Suggestion Box
Setting up an employee suggestion box in your office or on your website is an excellent way to receive feedback. It allows workers to voice their concerns right away instead of waiting for you to conduct a survey or ask the right question. To get the most constructive feedback, make sure the suggestions are anonymous.
#5 Organize Regular 1:1 Meetings
Although surveys, questionnaires, and employee experience platforms are undoubtedly helpful, regular 1:1 in-person meetings are still our strong recommendation. Talk directly to your team members, and use the opportunity to tackle the issues your questionnaires didn't cover. Discover how they feel and try to find a way to deal with potential problems.
Extra Tips on Improving Employee Happiness
Once you've analyzed survey results and data, you must design effective improvement strategies, and we'll help you do that. Statista's 2021 research revealed work-life balance as a crucial attribute for ensuring job satisfaction, but several other elements are just as important.
Achieving a sensible work-life balance is feasible by liberating your employees from demanding schedules and heavy workloads. It's also a great idea to allow them to choose between remote and in-office work.
Providing opportunities for professional growth and development is a must. Help your employees master their skills or learn new ones with diverse courses, workshops, seminars, etc.
Acknowledging accomplishments and implementing rewards will make your employees feel appreciated and, therefore, satisfied.
Addressing employees' needs and well-being has become more important than ever after the pandemic's peak. Provide your team with wellness programs and activities prioritizing psychological and mental health.
Organizing team-building activities is a fantastic way for colleagues to socialize, improve communication, and have fun. These don't have to be huge events; even a coffee break or lunch can be beneficial.
Establishing clear and realistic goals is critical even for highly skilled employees. Your workers need clear strategic direction to fulfill objectives swimmingly and without issues.
All these tools to measure employee satisfaction and above-listed practices are as valuable to your team as they are to you. A happy worker is a productive worker, and productive employees will help you grow and improve your business.